At Verde Collection we stand behind every plant, every drop of oil, and every product grown with Mother Earth, and designed for you.
At Verde Collection we take pride in our ability to grow and adapt quickly to the ever changing environment and industry of cannabis. We organically cultivate our land and grow our very own lovingly certified organic hemp right here in Fort Collins, Colorado. From seeds to blooms we carry full autonomy over each plant, in doing so, we ensure our end products are rich in full spectrum phytocannabinoids. Verde Collection's farming practices are sustainable to help balance and support the give and take between earth, and us. Our meticulous methods are set in place to offer you unwavering organic quality, behind every drop.
Transparency & Process
Unwavering organic quality, every step of the way.
From intentionally crafting our soil, germinating certified organic cultivars, to rich field cover crops, hand cultivation, community harvesting, small-batch production, and partnering with local and highly certified facilities we put extreme care into every step of our process.
Our plants like it, we like it, and you benefit from it!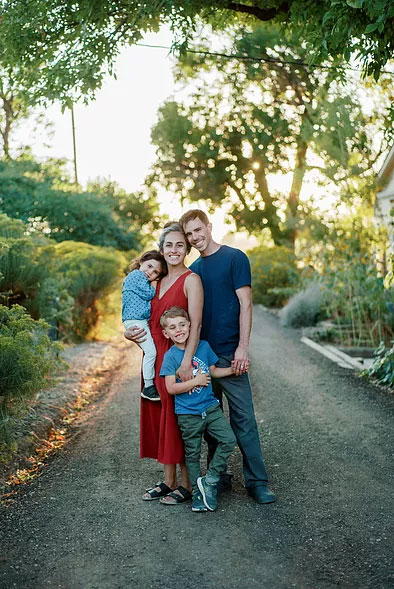 Founder and CEO, Jessica Dory with her family.
Balanced Soil
The health of our hemp plants begins with the health of our soil. At Verde Collection we pride ourselves with intentionally recycling and crafting live, balanced and nutrient rich organic soil.
"The soil is the great connector of our lives, the source and destination of all."—Wendell Berry
Planting from Seed
We believe in the mighty power of the seed. We grow our 5-8' cultivars starting with seed. Why? Because, plants grown from seed are proven to grow more vigorously with hearty root systems (including a tap root), and produce a greater yield.
Verde Collection has been certified organic since the very beginning and before that, the land had been organically tended for decades. Every input must be certified and fall within the USDA Organic regulations and 100% documented.
Harvest
Harvest time is community time here at Verde Collection. We celebrate the life cycle of our outdoor growing season together. During this labor intensive moment we open our farm's doors to our community to help us hand harvest and join the harvest party. We take great pride in our community, growing together, healing together, getting our hands dirty together through sweat and laughter.
We are eternally grateful for the hundreds of hands who have gifted us with time and love.
Drying Plants
At Verde Collection we dry our hemp in structures built with untreated wood and plenty of ventilation using large fans to ensure constant airflow for premium drying and curing conditions.
Processing
Verde Collection brands use our full spectrum CBD. This is the process where we take the whole plant (flowers and leaves) into extraction—the way nature intended it to be. In doing this the product contains a full range of phytocannabinoids from minor to major.
We work with local certified USDA organic, cGMP, and FDA certified processing and manufacturing facilities. Why is this important? It means that they too follow the guidelines needed to ensure your product is truly top quality. Unwavering quality.
Verde Collection products are manufactured in USDA Organic certified, cGMP and FDA registered facilities.
From seed to shelf our products do not leave a 10mile radius during all production.
Third-party Testing
Third party testing happens multiple times during each phase of growth, extraction, and production. We use third party metric labs who are cGMP, GLP, and ISO 17025 accredited. This ensures not only a stable and safe product, but confirms that we keep the federal limit of THC below 0.3% and the potency reflects exactly what is stated on each of our products.
Organic Obsessed
We are obsessed with all things organic: human connection, conversations, personal growth, food, and definitely our cannabis.
Organic Farming
Farming organic simply means no GMOs and less toxins in your food and/or in this case your tincture elixirs to skincare rituals. Toxic pesticides, herbicides, and other harmful ingredients are not allowed on organic crops, and by committing to farming organic we do our part by supporting life on earth from a micro to a macro level.
Being certified organic isn't as simple as it seems; it takes a lot of time, accountability, patience, thought, and effort to comply with very strict and important guidelines that must be met annually—but it's worth the extra steps knowing we are putting a super high quality and clean product into/on your body and ours. Not to mention we get to work and breathe in environments without conventional toxic chemicals and this gives us all peace of mind. We take immense pride in working side by side with our Organic Certifiers to ensure we meet the USDA Organic standards every year.
Our Organic Promise to You
We promise you a final product that has no harmful pesticides, herbicides, GMOs, and chemical fertilizers. Our entire product line comes from hand-harvested hemp, formulated with carefully selected organic ingredients, is third-party tested with traceability from Seed to Shelf™, and grown on our organic, rich living soil out in the full-spectrum Colorado sunshine!