Verde Collection is proud to offer the best quality products crafted from responsibly grown plants, and designed to enhance your wellbeing. Our commitment to sustainable farming practices ensures a positive impact on the environment. Products you can feel good about.
Verde Collection takes pride in our capability to adjust quickly to the evolving cannabis industry. Located in Fort Collins, Colorado, we cultivate our land in an organic manner and grow our certified organic hemp. We meticulously oversee each plant from seed to flower to ensure our products are rich in full spectrum phytocannabinoids. Our sustainable farming practices are designed to benefit both the Earth and our customers. Our methods guarantee a consistent, organic quality in every drop.
Transparency & Process
Unwavering organic quality, every step of the way.
From intentionally crafting our soil, germinating certified organic cultivars, to rich field cover crops, hand cultivation, community harvesting, small-batch production, and partnering with local and highly certified facilities we put extreme care into every step of our process.
Our plants like it, we like it, and you benefit from it!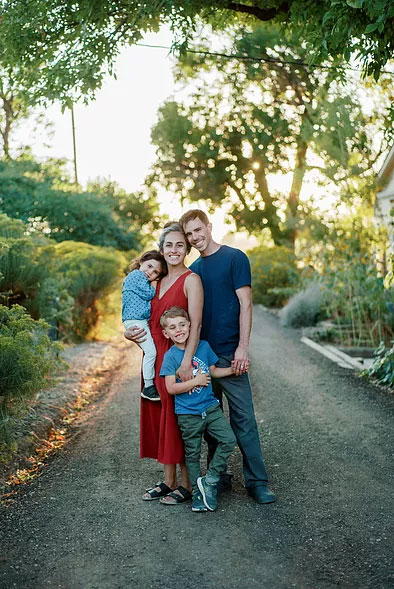 Founder and CEO, Jessica Dory, with her family.
Organic Soil
At Verde Collection, we begin with healthy soil in order to ensure the health of our hemp plants. We take pride in recycling and crafting live, balanced and nutrient-rich organic soil.
"The soil is the great connector of our lives, the source and destination of all."—Wendell Berry
Planting from Seed
Seeds are a powerful source of growth. At our farm, we cultivate 5-8' cultivars with seed. This method of planting is advantageous because plants grown from seed tend to grow more vigorously, with stronger root systems (including a tap root), and provide higher yields.
Verde Collection has been USDA Certified Organic since its inception, having been organically tended for decades prior. All inputs must adhere to the USDA Organic regulations and are fully documented.
Harvest
At Verde Collection, we celebrate the life cycle of our outdoor growing season together. During the labor-intensive period of harvest time, we open our farm doors to the community and invite them to join us for our harvest party. We are proud to be a part of the community and to grow, heal, and work together through sweat and laughter.
We are thankful to the hundreds of people who have generously donated their time and effort to help us.
Drying Plants
At Verde Collection we use untreated wood and large fans to optimize airflow for premium drying and curing of our hemp. This ensures the highest quality product for our customers.
Processing
Verde Collection brands use our raw full spectrum CBD, extracting the aerial parts of each plant – flowers and leaves – for a natural, full range of phytocannabinoids. Our process ensures that you receive all the benefits of the hemp plant, from minor to major phytocannabinoids.
At our company, we prioritize the quality of our products by working with local certified processing and manufacturing facilities that are compliant with the USDA organic, cGMP, and FDA standards. This means that our products are held to the highest quality standards, guaranteeing our customers unwavering quality.
Verde Collection products are manufactured in USDA Certified Organic, cGMP and FDA Registered facilities, ensuring only the highest quality, most reliable products.
Third-party Testing
At Verde Collection, we take third-party testing seriously. Before any product reaches our customers, it has gone through rigorous multi-phase testing by third-party labs. All of our labs are cGMP, GLP and ISO 17025 accredited, guaranteeing that our products are safe and consistent. To ensure we are compliant with federal regulations, all our CBD products contain no more than 0.3% THC and their potency is accurately listed on the packaging.
Organic Obsessed
At Verde Collection, we are passionate about organic living—from meaningful human connections to conversations that foster personal growth, to the food we eat, and especially our cannabis.
Organic Farming
Organic farming is an eco-friendly agricultural practice that prohibits the use of genetically modified organisms (GMOs) and minimizes the use of toxins. This ensures that our cannabis crops and products are free of toxic pesticides, herbicides and other harmful ingredients. By committing to organic farming, we help preserve life on earth, from microorganisms to macroscopic species.
Achieving certification as an organic producer is a complex and demanding process. It requires rigorous adherence to the USDA Organic standards and an ongoing commitment to accountability and quality. At Verde Collection, we take this responsibility seriously.
We dedicate ourselves to providing customers with premium organic products free of conventional toxins. We are proud to work with Organic Certifiers to verify our compliance with the regulations every year. When you choose Verde Collection CBD Brands, you can trust that you are putting a safe, high-quality product in and on your body.
Our Organic Promise to You
We promise you a final product that has no harmful pesticides and herbicides, no harmful chemical fertilizers, and no GMOs. We use only hand harvested, carefully selected organic ingredients, with third-party tested, traceability from Seed to Shelf™, all grown in organic, rich living soil bathed in Colorado sunshine.