Chill, Puppy 600mg CBD Tincture
$49.00 — or subscribe and save up to 40%
Soothe your pet's inner RAWR!
Is your furry family member showing signs of physical or emotional stress?
Our soothing phytocannabinoid rich Chill, Puppy! tincture is fast acting, inviting our pets into a space of quick aid, rest, and calm mental space to inspire a whole body approach to achieve balanced well-being.
At Grass Paws we take the extra steps needed to grow and craft your pet's herbal remedies with just as much love as we do yours.
PURE + SIMPLE INGREDIENTS
*MCT Coconut Oil, *Hemp Extract, *Bacon Flavor
*Organic Ingredients
Contains Equal to or less than 0.3% THC
HOW TO ENJOY
Chill, Puppy TINCTURE
We like to advise our pet owners to begin low, and go slow. No need to rush.
We suggest putting the proper dose directly in their food or on their favorite pup treat! This is how our pets like it best!
Consistency is key when starting a new regimen, keep at it for 2 weeks+ and keep notes on your pets progress!
Our pet droppers are made of plastic, so feel free to orally dose your pets in a safe fashion.
Store your tincture in a cool climate, and keep out of direct sunlight.
Please see our dosing chart for more information.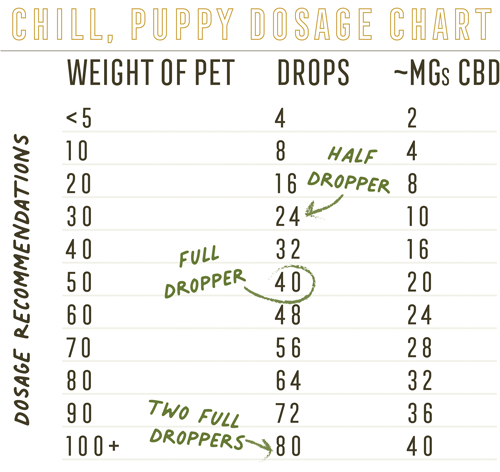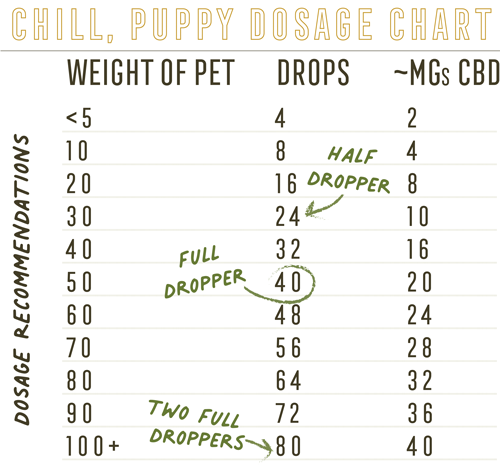 THE FACTS
Full Spectrum CBD Concentration
Guaranteed to have less than 0.3% THC
2 year shelf life from manufacturing date
3rd Party Tested + Lab Verified
cGMP Stamped
Formulated with our very own USDA Organic Certified Hemp Extract
GMO Free, Isolate Free, Gluten Free, Vegan + Cruelty Free
GRRROWN + CRAFTED IN FORT COLLINS, COLORADO
These statements have not been evaluated by the FDA. This product is not intended to diagnose, treat, cure or prevent any disease. By using this site you agree to follow the Privacy Policy and all Terms & Conditions printed on this site. Void Where Prohibited By Law.
Calm, Kitty 300mg CBD Tincture