5 Reasons Why CBD for Pets is a Great Idea!
At Verde Collection, home of pet brand GRASS PAWS, we understand that our tail waggin' family members are a dynamic and beautiful part of our everyday life. So when designing our pet line we made sure to craft for our pets the same nutrient dense, rich drops that we do for the pet-parents, just in a paw approved flavors and strengths.
At GRASS PAWS we are often asked, "Is CBD safe to give to our pets?" Yes, yes it is and here are 5 Reasons Why CBD for PETS is a Great Idea…
This is the number one reason pets and people beg or reach this incredible hemp derived oil. It is said that all disease starts on some level of inflammation in the body and CBD with no known harmful side effects is renowned for its anti-inflammatory effects. Giving the gift of enjoying an inflammation free life to our pets is, especially during elder pet years, is a gift of love.
2. CBD is An Incredible Painkiller!
Now knowing that many OTC painkillers overtime will compromise certain major organs it is no wonder why we as consumers started to look back to plant remedies to help us mitigate pain from headaches to chronic pain. When our pets need pain management, from arthritis, to a strained muscle, to post-surgery pain management, CBD has become a popular choice while also keeping our pet's personalities vibrant. Find here a study showing how CBD interacts with the ECS channels ultimately interacting with the brain to dampen pain.
3. CBD Proves to be an Anticonvulsant.
More and more studies are now showing that CBD can help manage or prevent the onset of seizures caused by epilepsy from pets to people. CBD and its effects can help control tremors, spasms, and seizures because it is a natural anticonvulsant. One major reason GRASS PAWS keeps our micro traces of THC in all our products is proven here in this study. This powerhouse couple of CBD and THC together work together to create an entourage effect helping to restore order of the neurons believed to be uncontrollably firing, helping prevent seizures for our pets!
4. Ahhhhhh, a sigh of relief!
CBD Reduces Stress and Anxiety for our Pets! Much like us our pets can experience a wide array of stress and anxiety from car rides, to a veterinarian visit, to fireworks, to changes in their secure environment. Anecdotally CBD has been proven time over time to help humans and pets reduce their anxious feeling and shift their nervous system from fight or bark back to rest and restore.
5. CBD can help Nausea!
Why? CBD is an antiemetic. Again, this works for pets and people alike! Vomiting in pets and people are known as more serious symptoms of the body trying to purge something toxic. However, vomiting can also lead to dehydration quickly among other symptoms. CBD is a natural antiemetic without the wide variety of side effects that ingredients like; aminopentamide, acepromazine, and chlorpromazine, which are commonly found in prescribed pet anti-nausea medication.
GRASS PAWS is always here and available to help answer any questions you may have about CBD & Your Family Pet. Contact us today!
---
Pet Tinctures (Drops) : Calm, Kitty, 300mg and Chill, Puppy 600mg
Shop FoCo Organics or Grass Paws CBD Products now & Align with Us and get up to 40% off every order!
---
Our Organic Promise to You
"We promise you a final product that has no pesticides, no herbicides, no GMOs, no chemical and harmful fertilizers, hand harvested, carefully selected organic ingredients, third-party tested, traceability from seed to shelf, and grown in organic rich living soil out in the full spectrum Colorado sunshine."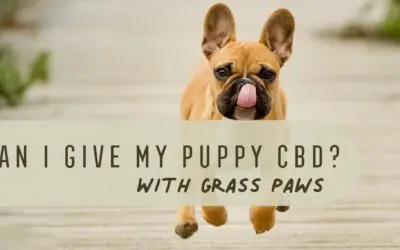 Home / Hemp + Heart Journal / Hello Monday Blog / »We all want to keep our furry friends happy and...